Fun day for employees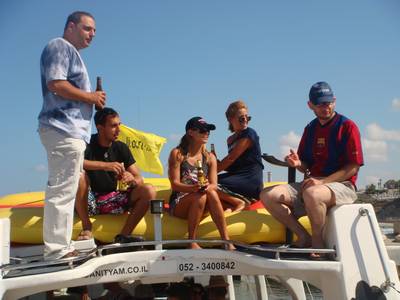 Fun day for employees 
Danit Yacht Rental , Partyboat in telaviv
Yacht for rent in t-a Israel
Fun days come to help employees get rid of stress and refresh their routines
A fun day for employees – because every employee deserves an enjoyable day
Looking for a place to make Come your day of consolidation? "Danit Yacht Rental" invites you to a day of fun and fun, a fun day for groups, days of consolidation for employees, offers a fun day in Tel Aviv. You can enjoy a day of water and nature, consolidation, challenge and more.
We at Danit Yacht Rental take the general idea and dab it in small details in perfect harmony and make one perfect picture.
Leave us the organization and you will take care to rest, turn the day of fun into an unforgettable experience that includes: music, sailing and water drop to the oboe.
A fun day on a yacht has become a popular and popular experience in recent years, a formative experience that gives employees the feeling that they are indeed getting rewarded and rewarded by their employer. This is a great way to get the company to work and improve staff work in the organization.
We all break our heads when it comes to the idea of ​​a fun day for employees, something special for the staff, get out of the routine, a special idea.
Our recommendation is to get out of the box, to encourage yourself and your friends a day of consolidation in Danit Yacht Rental.
The attraction can start with a "letter in a bottle" – a personal message up to the door of the house / office … to each member of the group.
All yachts are equipped with sound system with rich music, fishing equipment, SAP for water activities, tubs, tanning mats.
קצת מהגלריה שלנו